Shrinking My Head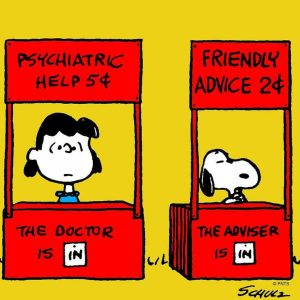 I have to admit, seeing a mental health professional was something we honestly thought was unnecessary especially in our financial position. We would rather reserve the credit card for finding out what was "really" wrong with me. Needless to say, my husband and I were both apprehensive and did not know what to expect. You know, what you see on TV and the movies, on the couch spilling your deepest secrets while some smug overpaid man sits there writing things on a clipboard and saying "uh huh" and "how does that make you feel" a lot. Jeeze, I was really not in the mood for this and was frustrated with the fact that I have to miss more work and experience something I really did not want to experience. More of an expensive inconvenience than a step towards diagnosis.
My husband Jim found a place that has both psychiatrists and psychologists that was taking appointments within a couple weeks. He ended up choosing a woman named Lindsay who graduated from Johns Hopkins, who was recommended by the facility based on anxiety being one of Lindsay's specialties. She works with a lot of PTSD patients who are war veterans. We arrived at the center, signed in and nervously sat in a big comfortable couch that seemed to swallow us both. I sat there fidgeting with my phone to pass the wait time. Jim sat next to me reading one of his favorite books which is an old yellow, fragile book from 1873 "Burn's Poetical Works". He said it was either that one or his old Bryant book. He would read me a line that had particular significance to him from time to time. I really don't understand that stuff but, it would divert my attention from the present situation a little anyhow.
A large glass door opens and Lindsay enter the room to greet us. Well, after about 15 minutes "in" that couch, we both struggled getting out of it which, caused us all to laugh a little although it was probably nervous laughter on our part. Lindsay is an attractive woman and was probably just over half my age, a couple years older than my daughter. "This getting old stuff is for the birds" I thought to myself. We did the meet and greet routine before Lindsay and I proceeded to her office. I became completely at ease and we talked about my condition, life in general and coping skills for about an hour. The last half hour Jim was invited into the room and he conveyed his concerns. After making another appointment for the next week, I said to Jim "that was not so bad, I like her" and Jim replied "yes, she is nice, do you actually want to come again? It did seem to help you a little". We both agreed another session was a good thing.
Severe anxiety can in fact cause many Parkinson like symptoms but, after raising five kids, I think we both can cope pretty well and both know anxiety quite intimately! ;-). I had also however, lost almost 20 pounds in a two month period. I was also becoming more anxious as my still undetermined condition got a firmer hold on me. I was VERY close to not driving to and from work. I would become completely "frozen" in my chair at work and tremors would come on hard. I would call Jim crying and he would talk me down enough where I could get to the ladies room to stretch and attempt to gain my composure. Jim, who has been into herbology and nutrition for thirty years, started me on several over the counter supplements to help treat Parkinsonian and anxiety symptoms which did help A LOT but, just not take me to a level of complete relief. Not taking them or when they wore off, was a noticeable transition.
That weekend, Jim took me for a drive in the country along with the dog. We dropped the top, drove over the Sunshine Skyway bridge to US41, to Buckeye Road, a left turn a right turn and into the rural farm land of Florida. This is where Jim goes on his lone motorcycle rides. After US41, I believe there was possibly only four stop signs and one traffic light for the next hour and a half. Jim really has a great route figured out and it was beautifully relaxing. He pulled into a horse riding "park" I think it is called Branch somewhere near Balm or Duette. It is very rural, there was no-one there, not even a car drove by and our dog can go off leash. Our dog Tyler was in his glory! He had never been off leash in the woods before. I could not walk in the sand so, I held back and Jim stayed pretty much in eye and ear shot. Tyler came back out of the woods sniffing, snorting and bouncing he was ecstatic! I swear he was smiling ear to ear! Jim was close behind and he said "We need to do this once a month for everyone's sanity". Tyler and I agreed. That drive, was excellent therapy. I was pretty good for the rest of the weekend.
Tuesday 08/01/2017 came around quickly and this was my next appointment with Lindsay my psychologist. Same waiting room couch routine but, Jim brought a different book, the previously mentioned Bryant's Poetical Works. Lindsay came to greet us again and back to the office Lindsay and I went. We talked a little and then she showed me a device that would help show me visually how to "enhance my calm". It's like a video game but, there are bio-metric sensors on my fingers. There is a big flat screen TV that displays the games interactions like, a ball of light on the screen that gets higher the more excited or stressed I get. The goal is to chill out and attempt to bring the ball of light down to a specific point on the screen. I did very poorly initially however, after 45 minutes of this I was making progress. Lindsay sent for Jim and he talked with her on his thoughts of how my week went and he covered everything quite accurately. Also, he noticed what I was hooked up to and trying to achieve. Jim started calmly describing our little road trip with the dog and wow, I brought the ball of light down even further. Jim asked Lindsay if there is a comparison to something like ignoring the discomfort very cold weather and what I was trying to achieve with controlling my emotion. Lindsay replied "Yes, the same thing basically.". Jim described having to ride his motorcycle daily in Ohio when the temperature was around ten degrees or less. He said "You learn to ignore it and control the discomfort. It's the only way you can get through it but, then you begin to appreciate and enjoy it! Probably why I enjoy riding in the rain so much, it's Zen like.". Well, I understood the comparison but, I don't think I will ever be "enjoying" this scenario.
The sessions with Lindsay really helped a lot. After seeing Lindsay I was able to focus and cope better with the anxiety caused by Parkinson. At work, my shaking and inability to move, type or get comfortable was overwhelming and the coping, calming methods Lindsay showed me really did help. I am glad I did it and so is Jim. However, even Lindsay said my condition is far from just being mental. The only person, including friends and family, who DID NOT recognize the severity of my condition was the neurologist! We went back to see Lindsay the next week, then we skipped a week and now we plan a once a month visit as finances permit. It is really nice to have someone to talk to who is neutral and unassuming. Some folks may not need the extra help because they can "happily ride in the rain" but, for those like me, I highly suggest seeing a psychologist. Heck, I am a Florida girl so I have never even seen snow let alone be so uncomfortable I had to ignore it, until present day that is. Perhaps walking around in an amusement park here in Florida in mid summer could be a comparison? Either way, I am now enabled with the tools to enhance my calm when need be. Jim say's it's probably like muscle memory, the more you do it, the easier it gets. I tend to agree! The neurologist prescribing a psychologist or psychiatrist, even though it ended up treating a side effect not the cause, was a good thing. That will be 2 cents please. 😉
Yes, above is an actual safe, secure & working donation button! I will use any donations to help support the cost of hosting this website and to help offset my medical bills. After that is all covered, I will be donating the rest to the Michael J. Fox Foundation.
(Should I receive any donations at all!)
Next Page – DaTscan & My Misfiring Noggin